To Delta Ag Expo Registrants – Thank you for registering to attend the Delta Ag Expo. Due to the ongoing weather and travel concerns, we have decided to postpone the Delta Ag Expo.
I know that you all are looking forward to getting the latest information from our MSU experts as well as obtaining professional CEUs. To meet those needs, we hope to make an announcement later next week regarding the rescheduled date, time, location, and format. Once an announcement is made, you will be e-mailed the new information and we will also be sending it out via our traditional and social media outlets.
Thank you for your understanding and we look forward to seeing you soon.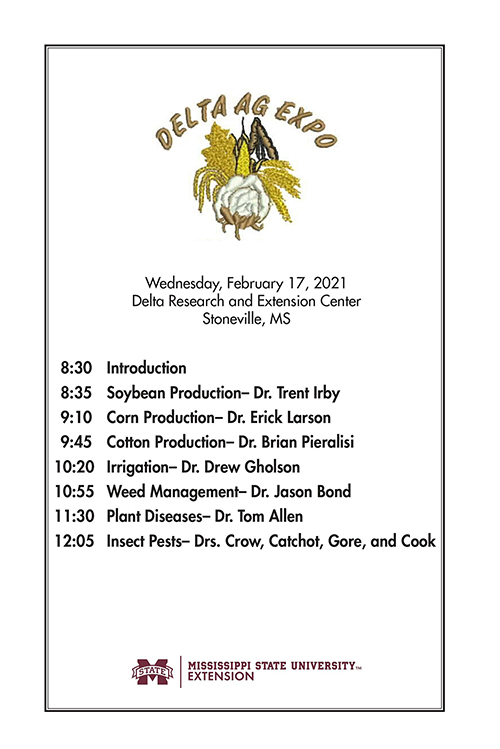 The 2021 Delta Ag Expo will be held on February 17, 2021, in the Capps Center Entrepreneurial Center at Delta Research and Extension Center in Stoneville, MS. The change is due to state and local regulations related to COVID-19 and the number of people allowed at indoor events, and the continuing renovations of the Ag Expo building in Cleveland.
Delta Ag Expo Educational Seminar
Wednesday, February 17, 2021
Program begins at 8:30 a.m.
Capps Building at the Delta Research and Extension Center
82 Stoneville Road
Leland, MS 38756
The format for this year's show will be limited to educational seminars presented by extension specialists, providing the latest technical information relating to agricultural crops grown in the Delta and surrounding area. There will be no exhibitors at this year's Expo. These sessions will begin at 8:30 a.m.
Due to Covid restrictions, seating capacity will be limited to the first 50 people to sign up via an internet link. After that, anyone who wishes to, can join via Zoom.
Below is an Agenda of Topics and Speakers
| | |
| --- | --- |
| 8:30 Introduction | 8:35 Soybean Production – Dr. Trent Irby |
| 9:10 Corn Production – Dr. Erick Larson | 9:45 Cotton Production – Dr. Brian Pieralisi |
| 10:20 Irrigation – Dr. Drew Gholson | 10:55 Weed Management – Dr. Jason Bond |
| 11:30 Plant Diseases – Dr. Tom Allen | 12:05 Insect Pests – Drs. Crow, Catchot, Gore, and Cook |
We look forward to seeing you in-person or virtually on February 17 and in-person in January 2022.